Cinema program "Skołowani" in Kraków
No showtimes for movie "Skołowani" for today
Choose other date from the calendar above.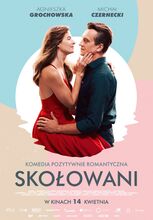 Original title:
Skołowani
Production:
Polska
Release Date:
14 April 2023
Distribution:
Next Film
Directed by:
Jan Macierewicz
Cast:
Agnieszka Grochowska
,
Michał Czernecki
,
Gabriela Muskała
Maks to niepoprawny kobieciarz, a zarazem notoryczny kłamca. Gdy Anna, młoda i atrakcyjna kobieta, bierze go za niepełnosprawnego, Maks brnie w kłamstwo, licząc na kolejny łatwy podryw. Anna ma jednak inny plan – przedstawia go swojej starszej siostrze, Julii, która porusza się na wózku. Niespodziewanie, cynicznie nastawionego do świata Maksa i pełną energii Julię zaczyna łączyć coś więcej, ale… kłamstwo jako fundament relacji? Czy ta miłość ma szansę?