Cinema program "Where the Heart Is" in Kraków
No showtimes for movie "Where the Heart Is" for today
Choose other date from the calendar above.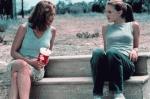 Original title:
Where the Heart Is
Runtime:
119 min.
Production:
USA , 2000
Release Date:
5 January 2001
Directed by:
Matt Williams
Cast:
Natalie Portman
,
Ashley Judd
,
John Cusack
Novalee Nation (Natalie Portman) jak dotąd nie miała szczęścia w życiu. Mimo, że nie jest jeszcze nawet pełnoletnia, zdążyła już przekonać się, jak trudno wypracować normalne relacje z ludźmi - nawet tymi najbliższymi. Jej matka (dwukrotnie nagrodzona Oscarem(R) Sally Field) odeszła z jakimś mężczyzną, kiedy jeszcze Novalee była dzieckiem. Jej chłopak najpierw mamił ją marzeniami o pięknej przyszłości w Kalifornii, a potem po prostu uciekł, zostawiając ciężarną i całkowicie pozbawioną gotówki dziewczynę w przydrożnym supermarkecie. Zdesperowana Novalee przez kilka tygodni przemieszkiwała w sklepie, ukrywając się przed pracownikami. I zapewne tam urodziłaby swoje pierwsze dziecko, gdyby nie pewien bibliotekarz i mieszkańcy małego miasteczka, którzy nieoczekiwanie ofiarowali dziewczynie więcej ciepła i miłości niż jej najbliżsi...