Cinema program "Drive Hard" in Kraków
No showtimes for movie "Drive Hard" for today
Choose other date from the calendar above.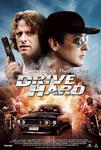 Original title:
Drive Hard
Runtime:
92 min.
Production:
Kanada / Australia , 2014
Category:
action
/
comedy
/
crime
Release Date:
6 June 2014
Distribution:
Kino Świat
Directed by:
Brian Trenchard-Smith
Cast:
John Cusack
,
Thomas Jane
,
Zoe Ventoura
John Cusack ("2012", "CON AIR - Con Air") as a dangerous gangster and Thomas Jane ("The Punisher") as the ex-champion Formula 1 duo, who never for a moment takes off his foot off the gas!
The times in which Peter Roberts (Thomas Jane) was the champion of Formula 1 are long gone. Ex-rally driver turned champagne on a can of beer, and the car on a car for driving. Going to work, do not expect that this day will be quite different from the previous ones. New Customer - Simon Keller (John Cusack) - turns out to be a gangster, who planned the audacious bank robbery and wants to use Peter's rally ability. This, forced to cooperate, he will have to remember the times when he reigned on the race track.

Movie trailer: Drive Hard